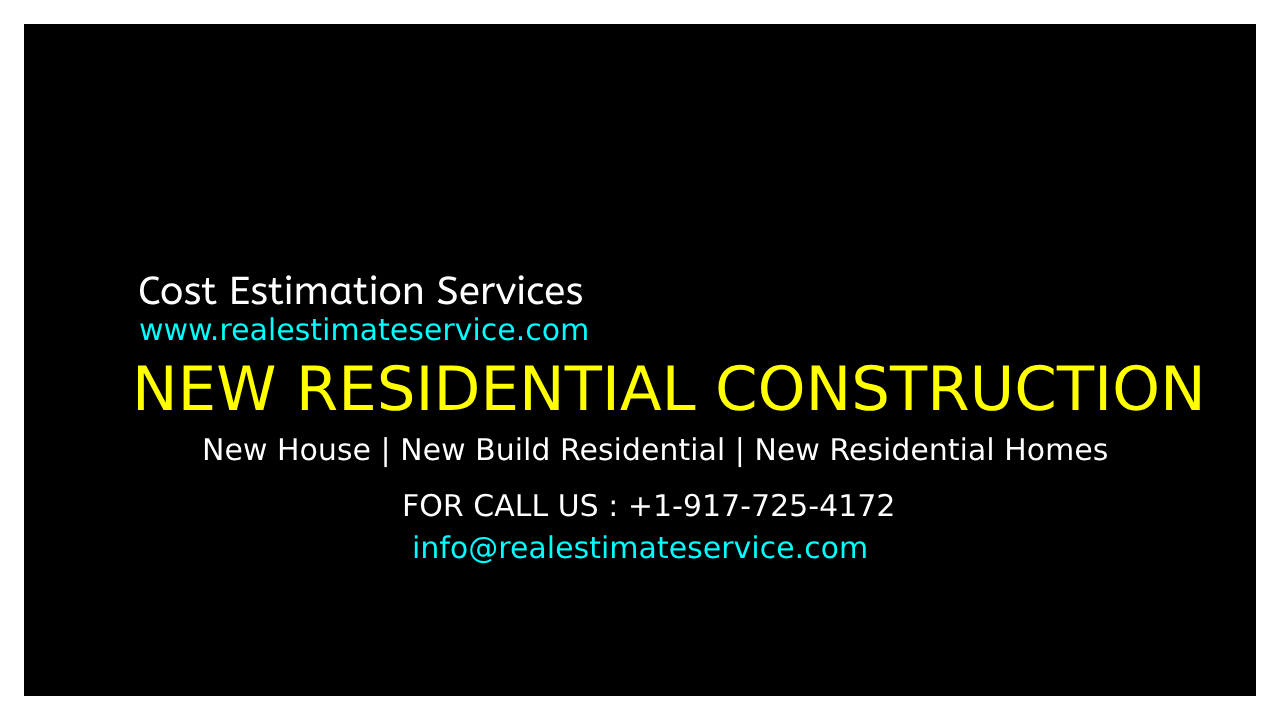 New Residential Construction - Real Estimating Service - New Build Residential
New Residential Construction services involve the process of building new homes or residential structures. This can include designing and constructing a new house from scratch on an empty plot of land or building custom homes and additions. Residential construction can be undertaken by individual landowners, specialist housebuilders, property developers, general contractors, or providers of public or social housing. It is important to work with a trusted and experienced home construction company to ensure the project is completed on time, within budget, and to your satisfaction.
Here are the steps involved in new residential construction:
Planning and Design: This phase involves working with architects and designers to create floor plans and design the layout of the new home. The design should consider factors such as functionality, aesthetics, and compliance with local building authority regulations and codes of practice.
Obtaining Permits: Before construction can begin, it is necessary to obtain the required permits and approvals from the local authorities. This may include zoning and building code requirements, as well as inspections throughout the construction process to ensure compliance.
Site Preparation: This step involves clearing the land, leveling the site, and preparing the foundation. The foundation is crucial for the stability and durability of the structure. It may involve excavation, pouring concrete, and installing footings.
Construction: Once the site is prepared, the construction process begins. This includes framing the structure, installing walls, roofs, windows, doors, plumbing, electrical systems, and HVAC (heating, ventilation, and air conditioning) systems. The construction process will vary depending on the design and specifications of the project.
Finishing and Interior Work: After the main construction is complete, the interior work begins. This includes installing flooring, cabinets, countertops, fixtures, and appliances. The finishing touches and details are added to make the house ready for occupancy.
Inspections and Quality Assurance: Throughout the construction process, inspections are conducted to ensure that the work meets the required standards and regulations. This helps identify any issues that need to be addressed before the project is completed.
Final Walkthrough and Handover: Once the construction is finished and all inspections have been passed, a final walkthrough is conducted with the homeowner to ensure their satisfaction. Any necessary adjustments or touch-ups are made before the handover of the completed project to the homeowner.
It is important to work with a reputable construction company that has experience in residential construction. They can guide you through each step of the process and ensure that the project is completed to your satisfaction.
The benefits of new residential construction include:
A new community: Moving into a development with multiple new homes allows everyone to start together and create a sense of community.
Warranties & Repairs: Builders offer warranties that cover the structure, systems, and other facets of a new home for varying periods of time, providing peace of mind and additional protection.
Location and Amenities: New homes are commonly built around new amenities, both within the community (such as pools and gyms) and in the surrounding area. Builders are constantly seeking prime land to build on, offering the benefit of buying a new home in a desirable location.
Low-Cost Maintenance: New construction homes are built in accordance with the latest building codes and safety regulations, requiring less care and maintenance compared to older homes. This can lead to lower maintenance costs and fewer unexpected out-of-pocket expenses after move-in.
Convenience of Move-In Ready: New construction homes are move-in ready, eliminating the need for repairs or updates before moving in. They often come with state-of-the-art appliances already installed, saving time and money.
High-Rated Energy Efficiency: New construction homes are built with the latest advances in construction materials and building practices, resulting in higher energy efficiency. This can lead to reduced monthly utility bills and a smaller environmental footprint.
Customizability: Some new construction homes offer the opportunity to customize various aspects, from appliances to paint colors, allowing buyers to tailor the home to their needs and preferences.
Brand New: Everything in a new construction home is brand new, including appliances, fixtures, and finishes. This means that the home is in pristine condition, reducing the need for costly repairs in the near future.
Residential construction practices, technologies, and resources must conform to local building authority regulations and codes of practice. This ensures that the construction meets safety standards and is built to last .
It's important to note that there may be some drawbacks to consider when purchasing a new construction home, such as higher cost and potential additional expenses for features not included in the purchase price. However, the benefits listed above can make new residential construction an attractive option for many home buyers.