Our aim is to provide the fast and accurate construction estimating services and material takeoffs for contractors, general contractors, sub-contractors and business owners. Where? You can get an accurate construction estimate from one of our best freelance construction estimator within 24 hrs.
In construction, a "takeoff" is the process of determining how much of each material is needed to complete a job. It is also sometimes called a quantity takeoff or material takeoff and sometimes you'll see it hyphenated as "take-off".
HIGHLY ACCURATE CONSTRUCTION TAKEOFFS
We are more than just an Estimating Firm. Our team helps contractors with the getting more leads, management of bids, consulting and tips to improve contract awards. Since we work nationwide with our construction takeoff service, we get to know what other contractors are doing that works. Get to know more about us.
How do you estimate construction?
A construction project estimate is vital to keeping a project from going over budget.
…
This is a relatively simple process involving five basic steps.
Create a timeline. …
Perform a quantity takeoff. …
Estimate labor. …
Use a template. …
Add equipment and overhead for the final estimate.
Benefits of outsourcing construction cost estimation services:
 – Highly skilled and experienced team of engineers
 – Cost-effective solutions
 – Customized services
 – Takeoff is prepared carefully
 – Precision in work that provides a high success rate
 – The quick turnaround time that ensures timely delivery
 – 100% customer satisfaction
– Use us only when you need us and yay us only when you use us
– Manage the peaks and valleys of your estimating workload
– Bid more – get more
– Spend more time pricing your labor correctly than counting bricks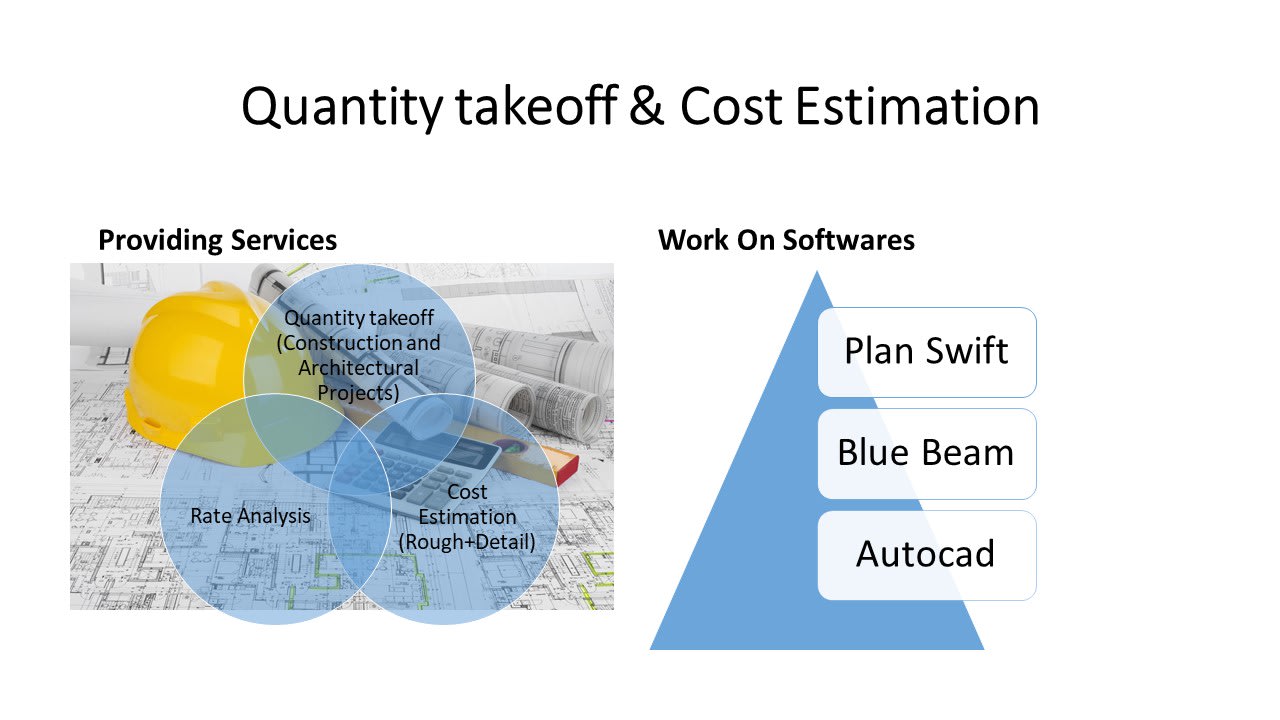 Why outsource Construction Cost Estimation to us?
98% Guaranteed Accurate Quantities

More Bids More Business

We are aiming to cut down 50% of your estimation budget

On-Time Estimates With Backup Calculations

Detail Estimates With Line Items.
What is involved in a construction takeoff?
To create a construction takeoff, an estimator will need to quantify every component required to complete their project (known also as a material take-off).
Material takeoffs include all of the raw materials you'll need for the project, such as wood, rebar, piping, and concrete.
Each of these materials is quantified, and a price is assigned to each. These two steps are usually done separately, with the estimator first creating a quantity takeoff list and then assigning a cost to each material.
While creating a comprehensive list of materials for a project can seem daunting, assigning accurate prices to each material is often more challenging.
Construction is an expensive process, so a detailed measurement of material and labor required in a construction project is very essential and this is called 'quantity take-off'.
All quantities and material take-offs are provided as a service for our clients which enable them to verify RA bills, cost monitoring, floating tenders, project bids, etc.
Our specialist team reviews drawings and specifications to prepare cost estimates and plans, audit projects, manage construction costs and construction contracts. Any change of design is also checked by our cost estimators to assess the cost effects.
Quantity take-off helps the designers improve the quality of BIM and provide accurate quantities for contractors and project managers.
It enhances the communication with the client.
With quantity take-off, the project managers and contractors can calculate accurate quantities for various purposes easily and integrate with the existing schedule scheduling, cost estimation, and other applications.