It's possible that you've had to estimate the cost of a drywall project if you're a contractor. And you already know it's a difficult task if you've done it yourself. There are various factors to take into account, from the project's size to the drywall's type. For the purpose of eliminating any uncertainty, drywall estimator services are offered. You could get an accurate idea of the cost of your project by using these services, which can provide precise estimates for both goods and labor. In this article, we'll look at some of the best drywall estimate services available today and discuss how to choose one.
What is drywall estimating
The process of determining the number of materials and labor required to install or repair drywall is known as drywall estimating. A drywall contractor, homeowner, or project manager usually performs the estimating services. The type of drywall, the size of the area, and the complexity of the project will all be included in the estimate.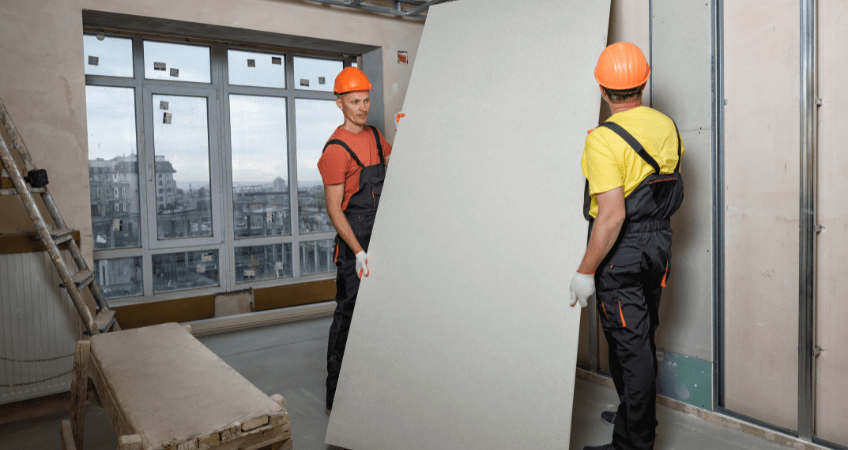 Our Drywall estimate scope includes:
Drywall sheets
Sheetrock panels
Gypsum wallboard
Gypsum board ceiling
Acoustic ceiling
Cementitious backer board
Backing
Sheathing
Thermal insulation
Acoustic insulation
Metal furrings
Drywall mud
Drywall taping
Blocking
Joint tape
Joint Sealant
Screws
Corner beads
Clips
Bracings
Metal studs
3-step drywall estimating process
There are a few steps you can take to ensure you get an accurate quote when estimating the cost of a drywall project. The following is a three-step procedure for estimating drywall costs:
Determine the size of the coverage area. This will assist you in calculating the amount of material required and the costs associated.
Estimate the type and quantity of work necessary. This includes things like preparation, installation, finishing, and repairs.
Always include an overhead margin in your final estimate to account for any unforeseen situations: Preparing to spend extra money can help you manage your objectives.
You can be confident that you are getting a reasonable estimate for your drywall project if you follow this procedure and get bid-winning estimates
Benefits of hiring a Drywall estimator
If you're considering hiring a professional drywall estimator for your next project, you're probably wondering what the advantages are. Here are just a handful of the numerous benefits of hiring a drywall estimator:
Save time and energy: Estimating drywall material and labor costs can be complex and time-consuming. A professional estimator will complete it quickly and precisely, allowing you to concentrate on other areas of your project. After that, we will help you in cost estimation services.
Get an unbiased estimate: It's easy to underestimate the amount of drywall required or the labor cost, but an estimator will provide you with an accurate price based on industry standards.
Accuracy: even minor errors in your estimates might lead to major issues later on. A skilled estimator will ensure that your estimates are accurate, which will help you win more bids.
Business growth: Knowing that your estimates are precise and complete will provide you with peace of mind during your project. Hence, You'll be able to focus on other things knowing that your estimates are being handled by a pro.
5 reasons why you should choose our estimator for your next project?
However, Real Estimate Services is offering its estimating services to contractors and subcontractors for the past 11 years. Our clients keep coming back to us because we serve the best.
We have a vast team of experienced estimators with various types of drywall projects. We've seen it all and understand how to precisely estimate the time and resources required for any project, large or little.
We are continually up to date on industry news and advancements. This means we can assist you in determining the most efficient and cost-effective approach to execute your job.
We provide a free talk so that you can get to know us and determine if we fit your needs.We'll take the time to learn about your project and offer you a personalized quote for your requirements.
Fourth, our pricing is reasonable, and we provide discounts for large projects. When you hire us as your estimator, you can be confident that you're getting the best deal.
Finally, we stand completely behind our work. If you are dissatisfied with our estimate, please let us know and we will make it right. We want you to be pleased with our services so that you will return to us for all of your future estimating requirements.
If you are seeking one of the best Drywall construction estimation services, your search has come to an end. Real Estimation Service is here to assist you. With us, you will escape the hassle of being over or under-quoted on bids. We will provide you with accurate and detailed drywall estimates.
Drywall Estimating near you
If you are seeking one of the greatest Drywall construction estimation services, your search ends here. We at Real Estimation Service are here to assist you. With us, you can prevent the hassle of being over or under-quoted on bids. Hence, We will provide you with precise and detailed drywall estimates.
Time to call the experts
Usually, the more time you spend in the office estimating prospective future jobs, the higher your overhead costs, which reduces your profitability. Running a successful drywall company requires being competitive, but this does not require sacrificing profits to be competitive!
Many firms have turned to estimate software to improve turnaround time and cut costs, but you still need to learn how to use the often complex estimating software.
Furthermore, you'll have to trust the software to catch every part of the project and ensure that no errors are made in the process, whether due to human error or the virtual program failing to understand the various real-world challenges that are typical on construction sites. furthermore, you get these cost estimate services with us.