The national average roof repair cost is $933, with most homeowners spending between $364 and $1,533. Most common small roof repairs cost between$150and $400. Labor runs around $45 to $75 per hour.
Average Cost to Replace a Roof
| House (& Roof**) by Square Foot | Re-Roofing Cost* |
| --- | --- |
| 1,800 (1,897) | $6,700 – $9,500 |
| 1,900 (2,003) | $7,000 – $10,000 |
| 2,000 (2,108) | $7,400 – $10,500 |
| 2,500 (2,635) | $9,000 – $13,000 |
Metal Roof Repair Cost
Metal roof repairs average $6 to $20 per square foot. You can find different metal roofs, including steel and aluminum shingles and shakes. Metal is strong and sturdy and can last for many years, withstanding difficult temperature and weather conditions. However, expansion and contraction can loosen the fasteners between the panels, leading to leaks and loose shingles.
Tile Roof Repair Cost
Repairing a tile roof costs between $8 and $14 per square foot, so this is one of the more costly materials to have for roof repairs. Tile is a pricey but popular choice for its durability and weather-resistant qualities, and tile roofs can last for many years with proper maintenance. However, there is still a chance for tiles to crack or slide away, and leaks can occur in tile roofs.
Wood Shake Roof Repair Cost
Wood shake roofs cost between $5 and $12 per square foot to repair. Wood shakes are beautiful and enhance your home's curb appeal, but they are expensive to install and costly to maintain. They are usually made from cedar or redwood, which is strong enough to withstand tough conditions but can still wear away during periods of excessive rainfall.
Flat roof repairs cost between $3 and $10 per square foot. Many flat roofs can be found on commercial buildings or more modern homes and have aesthetic advantages. However, it is easy for water to pool on top because there is no slope with a flat roof, generating issues like leaks that must be regularly fixed. Fortunately, material costs for flat roofs are often low, but you may need to have this roof repaired more often than others.
Enhancements and Improvements
It important to budget for some additional costs that may come up during the course of the repair.
| Job | Cost |
| --- | --- |
| Repair Gutters and Downspouts | $10 – 15 / ln.ft. for sectional gutters. Seamless gutters cannot be repaired and need to be replaced |
| Repair Downspounts | $35 – 50 per section on the first floor, and $50 or more for two-stories or higher |
| Fix Leaking Skylights | $300 – 550 |
| Repair Water Stained Ceiling | $215 – 350 |
| Fix Broken Flashing | $170 – 300 |
| Repair Damaged Fascia Boards and Soffits | $15-25 / ln.ft. (if less than 10 ft and not combined with another job) |
| | $10 / ln.ft (if over 10 ft. combined with another job) |
| Install Underlayment | $60/square and up |
| Apply Roof Sealant (helps prevent future leaks) | $800-1,000 for a standard size roof |
Collar failure around a gas vent
Gas vents are incredibly important because they make sure any carbon monoxide coming from gas appliances vents out through the roof.
Most of the time, these vents are installed by HVAC workers who slide a collar over an unsealed pipe and flange thinking it will shed the rain right off of it. Under normal circumstances, this works.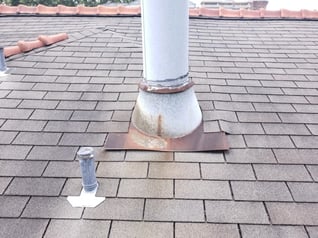 However, with a torrential downpour, water can splash under the collar and lead to water running down the pipe.
How is the leak repaired?
To repair this leak, your roofing contractor will have to raise the collar up very carefully, seal it with a dark color caulk, and then slide the metal collar back down into the sealer.
Because of the importance of these pipes, roofers have to be very careful when trying to repair this leak so that carbon monoxide doesn't go inside the house.
How much does it cost to repair?
Depending on how steep and hard to access the roof is, this repair will start around $400 per gas vent. Because of how careful your contractor has to be when fixing this leak, the more time it takes, the more the price rises.
Other Common Roof Repairs
In addition to the roofing material itself, there are numerous other places where water could be infiltrating your home, which would necessitate a roof repair.
Fascia and Soffits: The fascia and soffits below the edge of your roof, which help protect your roof deck may begin to deteriorate or rot over time due to insect activity or water damage. These are fairly easy to repair, and cost around $10 to $30 per board.
Roof Trusses: The roof truss is what holds your roof up. Over time, water damage could weaken or soften the truss, which could undermine the integrity of your roof. Your roofer can determine if repairs to the trusses are necessary, and can quote you the repair cost after assessing the damage.
Roof Gutters: Your gutters are an important part of your roof, helping to funnel water away from the edge. Over time, they could begin to pull away or develop cracks or rust that will necessitate their replacement or repair. Roof gutter repair will typically cost anywhere from $4 to $7 a section.
Flashing: Flashing is sometimes the cause of a leak, and will cost around $200 to $500 to repair depending on its location. Flashing can be found around chimneys, vents, and skylights, and it may develop cracks or holes over time.