Drywall can be damaged by numerous things, including water damage and just general wear and tear on the home. But the result is always the same – unsightly cracks appear in the drywall which need to be repaired. When drywall damage occurs, you can fix it yourself with some patience and special tools, or you can hire a contractor to do the job for you. Whether you decide to do the repair work yourself or hire someone else to fix the problem, it's important to know about drywall repair cost so that you can avoid any surprises that might come up when trying to solve the problem of drywall damage in your home or business property.
Repairing drywall isn't easy, so you'll want to be sure you know exactly what you're doing before you start to patch up your drywall. Save yourself some time and money by following this drywall repair cost guide.
This guide will walk you through every step of repairing damaged drywall so that you can do it quickly and correctly the first time around.
Everything You Need to Know About Drywall Repair Costs
Drywall repair cost can vary greatly depending on the extent of the damage and how much expertise is required to complete the job, so it's important to know how to find qualified, quality contractors to do the work and how to negotiate pricing with them.
For a typical job that takes around 6 hours of repair work, the labor cost will be around $150 to $380 for small drywall repairs. But for a major repair you the cost will be around $200 to $380 per project. Anyhow, the major factor in repair costs is always the labor that is very expensive for drywall. You can considerably save few bucks by hiring a handyman rather than a contractor. But handyman can't always handle major projects. A contractor for a drywall repair cost will be like:
Base – $40 to $100
Per Repair cost – $75 to $200
In total a contractor will cost you around $185 to $380 whereas the handyman cost will be $150 to $200. Anyhow, the cost of material – drywall sheet, ancillaries including tape and compound doesn't cost a lot in repair works.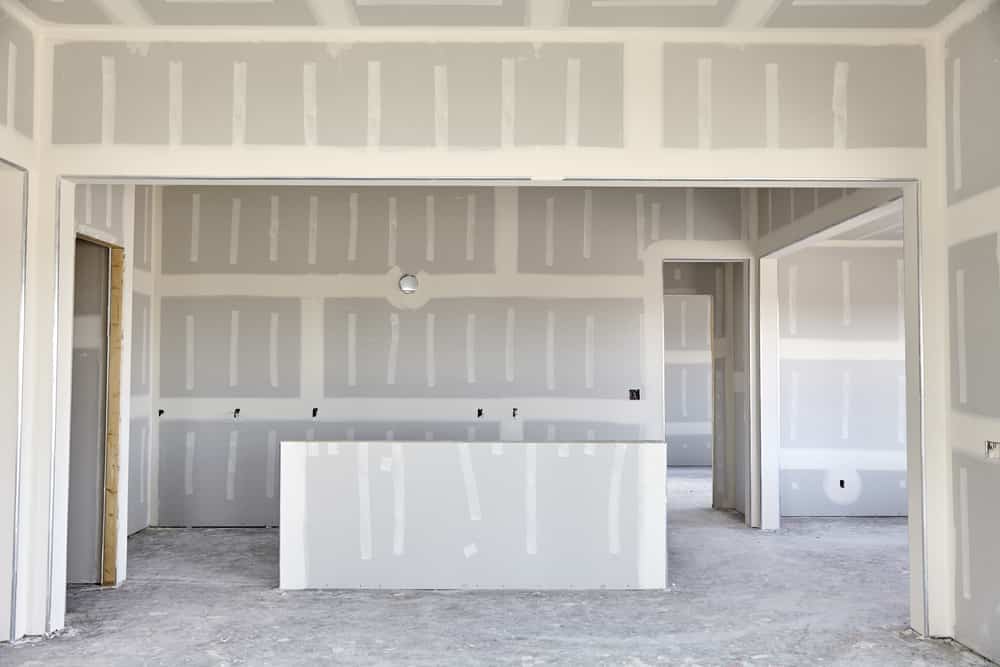 Save money on your next home repair with our Drywall Repair Cost Guide
Over time, drywall can become damaged due to wear and tear, water damage, or even just age. Cracks, holes, and dents can all occur in drywall, making it necessary to repair the damage.
Some of the most common reasons are
Potential damages caused by objects, such as doorknobs, boisterous children's toys, or heavy kicks.
Wetness on the ceilings caused by a leaky roof or plumbing system.
Some typical home improvement projects include adding an electrical outlet or removing old cables or wiring.
There are several ways to do this: using joint compound for small cracks and holes; cutting out an area of drywall for large damages; nailing a new piece over old drywall; or taping fresh drywall over the old one. No matter which way you choose, there are still things you need to know before beginning repairs on your own.
Luckily, drywall ceilings and walls are relatively easy to repair and when done right, the damage will be completely vanished.
What are your repair choices?
Having knowledge about repairing a hole or crack in your drywall is very useful, but do you know what you can do? Two things that you can do are to make a localized repair of the damage or to replace the entire sheet of drywall. Each of the approach has its merits and drawbacks:
Drywall local repair: Ideal for Small to medium-sized areas – these can be repaired with standard technique. It's less messy with a local repair. Small holes are just patched up and no drywall is necessary. When there is need for drywall, you can save some money by reusing scrap material, but make sure that it is secured. The caution regarding local repair is that any large piece must be fastened to a stud or other suitable support for stability, and that this mounting material is tricky to insert and secure.
Full sheet drywall repair: The only method to repair holes in drywall is to replace the entire sheet. The sheet is removed from the studs and a new piece of drywall is screwed in place. The joints are taped, mudded, and sanded, resulting in a clean repair that blends better than a small patch. Due to the time and effort involved in cutting out the old sheet, so the sheets next to it aren't damaged, this method is tricky and costly. Additionally, replacing a full sheet requires a number of taping, mudding, and sanding steps.
Drywall Repair Materials Cost
Depending on the type of drywall you already have, the cost of drywall sheet will vary. Anyhow, the general cost is $6 to $13 per sheet. For a roll of tape and joint compound, add $15 to $20 in your estimate. By hiring a handyman or a contractor; you don't need to purchase tools.
Drywall Repair Labor Cost
The major portion of the repair cost includes labor. For small repairs to patch, 3 to 6 hours of labor is required. You can use fast-drying compound to save time and money. You can repair a path of drywall in one day with fast-drying compound. Anyhow the total cost of labor for drywall repairs is $115 to $380. You can pay less for a handyman to repair the drywall but have to pay more for a contractor.
Time to call experts
So you see finding the exact cost to repair drywall of your house is not that simple? You need to evaluate the existing condition and judge feasible solution or remedy. That's where services of a drywall estimation company like Real Estimate Services come handy. We can help you in making a budget for you next drywall project.