How much does it cost to drywall a 2000 square foot house?
This price estimate includes materials, professional labor for both hanging and finishing the drywall (joint compound of seams and screw holes) as well as sanding, so that a contractor can paint it. For 2,000 sq. ft. of wall space, your average total drywall cost is $6,200 – $23,800.
Cost to Drywall a Whole House
| House Size | Drywall Square Feet | Price |
| --- | --- | --- |
| 1,500 | 5,000 – 6,500 | $5,000 – $19,500 |
| 2,000 | 6,500 – 7,900 | $6,500 – $23,700 |
| 2,500 | 7,900 – 9,400 | $7,900 – $28,200 |
| 3,000 | 8,000 – 10,000 | $8,000 – $30,000 |
The first thing you want to know is how to figure out the cost to finish drywall per square foot because you can then take this information and apply it to your situation. Drywall comes with a broad range of installation costs, and the biggest cost factors are the job size and the drywall type you pick out. A lot of drywall installation contractors charge less per square foot if you need the entire house drywalled than they do if you need a smaller project completed.
Your labor costs will start at around $1.00 for every square foot, and this can go up to $2.50 per square foot, depending on the level of finish and the job size. So, for all of the materials, installation with labor costs, and finish, you should budget for $1.50 to $3.50 per square foot. Be sure to ask any contractors you get in touch with about their prices for small and large-scale projects per square foot.
So, if you had a 12 by 12-foot room, the contractor would need 18 panels of drywall. The cost would fall right between $1,500 and $3,500. A basic rectangular room is going to cost less than a room that has non-standard dimensions or arches.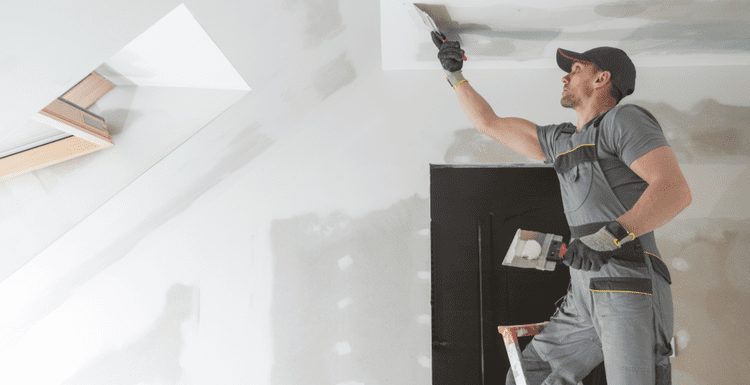 Types of Drywall
There are many types of drywall. Where you are putting the drywall dictates the kind you would use. Here are some basic types of drywall:
1. Regular Drywall
Regular drywall is normally white on one side and brown on the other side. It comes in a variety of thickness ranging from three-eighths of an inch to an inch. The panels normally measure four feet by eight feet. This is the most common type of drywall. It is suitable for walls and ceiling and finishing basements.
2. Mold Resistant
Mold resistant drywall also known as green board drywall has a green covering that makes it more resistant to moisture than regular drywall. It features paperless backing and a special coating that prevents the buildup of mold. It does cost a little more than regular, but it is important to remember it is not waterproof. It is suitable for bathrooms and kitchens.
3. Moisture Resistant
Moisture Resistant drywall features a paperless backing and an additional special coating to help prevent the build-up of mold in moist or humid places. It is ideal for areas that are prone to moisture and humidity. It is suitable for bathrooms, basements, kitchens, laundry, and utility rooms.
4. Fire Resistant
Fire Resistant Drywall is crafted with glass fibers in an extra thick design. It prevents the spread and speed of fire and generates less smoke than traditional drywall. It also provides sound control and are required by some building codes. It is suitable for utility rooms, garages, and areas near a furnace, fireplace, or woodstove.
5. Sound Dampening
Sound dampening drywall is the same thickness as regular drywall but it is layered. In between the front and back appear is a quarter-inch layer of gypsum, followed by a membrane and then another layer of quarter-inch gypsum. This helps reduce noise transmission between rooms. It is suitable for rooms you want to make a little quieter.
How much does it cost to drywall a 20×20 room?
Average cost to drywall a room
| Room | Drywall square feet | Average cost |
| --- | --- | --- |
| 12×20 Master bedroom | 510 – 750 | $750 – $2,600 |
| 16×20 Living room | 580 – 900 | $850 – $3,100 |
| 20×20 Garage | 730 – 1,130 | $1,000 – $3,900 |
| 1,000 SF Basement | 1,000 – 2,000 | $1,500 – $7,000 |
What does it cost to paint the inside of a house?
Painting your house may cost you around $1,800 per average-sized room. If your home's interior is 2,300 square feet, don't be surprised to pay somewhere between $4,000 and $10,000 for the job. An average cost in America for a 2,000 square foot home is $2,581. The range is between $1,714 and $3,682 for a home that size.