Is a Level 5 drywall finish worth it?
Level 5 is absolutely worth the extra expense for specific rooms or walls due to lighting concerns (intense sunshine) and the sorts of paint finishes ( high-gloss paint) Before you start painting the interior, speak with your local drywall contractor to discover which rooms require this type of drywall finish.
Level 5 drywall finish cost
The cost of a level 5 drywall finish ranges between $1.75 and $3.50 per square foot. It is recommended to use level 5 to prepare walls for satin or glossy paint. Two coats of joint compound on the tape, three coatings on the screw holes, and a skim coat over the entire surface area are included in a level 5 finish.
How do you get Level 5 drywall finish?
Use the tools and techniques that Myron Ferguson demonstrates in this video, and you will be well on your way.
Attach the drywall to the walls or ceiling
Place drywall joint tape in the joint compound.
Apply a thin coat of joint compound over the tape and cover the drywall screw holes.
Apply another coat of joint compound to the tape and screws and sand the dried compound.
Finish with a skim coat.
What does Level 5 drywall look like?
Level 5 drywall is the highest possible level of drywall finishing. A high-quality skim coat has been applied on Level 5 drywall. This thin coat hides the nails, tape, compound, and wall components from view, giving the room a finished aspect.
Difference between level 4 and level 5 drywall finish
4th level A conventional three-coat tape job for painted surfaces that will not be coated with gloss, semi-gloss, or enamel, or that will not be covered with a shiny wall covering. Level 5 is a level 4 tape job with one thin coat of compound applied to the surface to reduce texture and even it out for shinier results.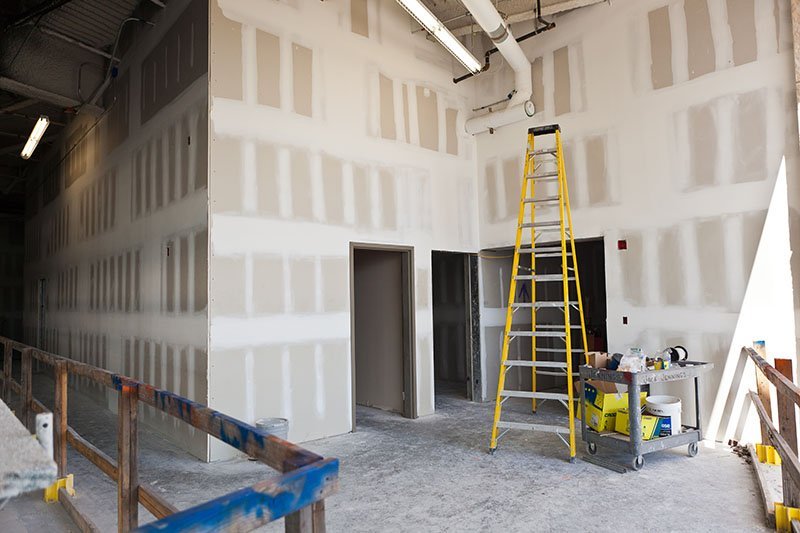 Level 5 finish explanation
Varying rooms require different levels of finishing, therefore in some cases, a thin coat may be required to accomplish level 5. Level 5 does not have to be applied to all of the walls. For example, kitchen walls concealed by cabinetry, or a garage, shed, or warehouse. Simply said, the areas that don't need to look great can be stopped at level 3 or 4, saving you a lot of money on drywall finishing.
The level 5 drywall primer's skim coat is often applied with a roller or a spray. This primer will prepare the wall for subsequent painting and design features, such as a spray texture, which is widely used on walls and ceilings.
Drywall Finishing Levels
Level 0: Level 0 denotes that no form of finishing has been applied. Drywall is simply affixed to the walls or ceiling at this level.
Level 1: It means that drywall joint tape has been embedded in the joint compound but that no additional work has been done.
Level 2: You've applied a thin coat of joint compound over the tape and covered the drywall screw holes at this point. You can stop at this point if you plan to tile the wall surface or if you're working on a garage that will be utilized for storage or a workshop.
Level 3: Finishers apply a coat of joint compound to the tape and screws at this level. This is where walls with a strong texture, such as knockdown texture, can come to an end. Progressing beyond this point is futile because texturing will result in a coarser finish than level 3.
Level 4: The traditional drywall finish. On the tape and screws, apply a second coat of joint compound and sand the dry compound. This is the level that is commonly utilized when a wall surface is going to be painted or wallpapered.
Level 5: This highest possible level of drywall finishing involves applying a skim coat, if applicable.
Retail Drywall Costs by Type
Here's a rundown of the most prevalent drywall varieties and their estimated costs:
Standard: It is the most popular and basic type of drywall used for walls and ceilings. It comes in a variety of sizes, starting at (¼) inches thick, but that thickness isn't sturdy enough for ceilings and will sag over time. | Panels cost between $8 and $12 each.
Mold Resistant: It is most typically utilized in moist, mold-prone environments such as bathrooms and basements. Because many manufacturers employ moisture-resistant paper, some contractors refer to it as "green board." | Panels range in price from $12 to $16 per panel.
Moisture Resistant: Moisture-resistant drywall, like mold-resistant drywall, is utilized in bathrooms, basements, unfinished garages, and other damp locations in humid climates. Panels range in price from $14 to $26 per panel.
Fire Resistant: Building regulations mandate the installation of fire-resistant drywall between the garage and the main home. It's also utilized around furnaces, stoves, and fireplaces, among other things. Each panel costs between $13 and $15.
Soundproof: Soundproof drywall is also known as acoustic drywall and sound-control drywall, as the name implies. It's utilized to block out noise from nearby rooms or the outside world. It is the most expensive sort of drywall. Panels cost between $45 and $55 per.
What is a Level 5 primer?
Level 5 is a high-quality interior PVA primer surfacer that smoothes out flaws and creates even wallboard surfaces. It can be used without a skim coat to assist create a level 5 drywall finish.
Is Level 4 drywall finish good enough?
A Level 4 finish is completely appropriate if the drywall is to be wallpapered, textured, or painted with flat paint. However, when a coat of glossy paint or intense light is applied to this level of quality, any cracks and imperfections can be seen.