Is a Level 5 drywall finish worth it?
Level 5 is definitely worth the extra cost for certain rooms or walls because of lighting issues (strong sunlight) and the types of paint finish ( high-gloss paint) talk with your local drywall contractor to see what rooms should need this type of drywall finish Before interior painting.
Level 5 drywall finish cost
A level 5 drywall finish costs $1.75 to $3.50 per square foot. Level 5 is recommended to prep walls for satin or glossy paint. A level 5 finish includes two coats of joint compound on the tape, three coats on the screw holes, and a skim coat over the entire surface.
How do you get Level 5 drywall finish?
Use the tools and techniques that Myron Ferguson demonstrates in this video, and you will be well on your way.
Sand.
Remove dust.
Thin all-purpose compound with water.
Roll on compound over the entire wall.
Remove compound from the wall.
Give a quick final sanding.
What does Level 5 drywall look like?
Level 5 drywall has a high-quality skim coat over it. This thin coat covers the nails, tape, compound, and wall materials from the naked eye, creating a pleasing, completed look.
Difference between level 4 and level 5 drywall finish
Level 4 A standard 3 coat tape job for painted surfaces that are not to be coated with gloss, semi-loss or enamel or where shinny wall covering will not be used. Level 5 is a level 4 tape job with one thin coat of compound spread over the surface to minimize texture and even out the surface for shinier finishes.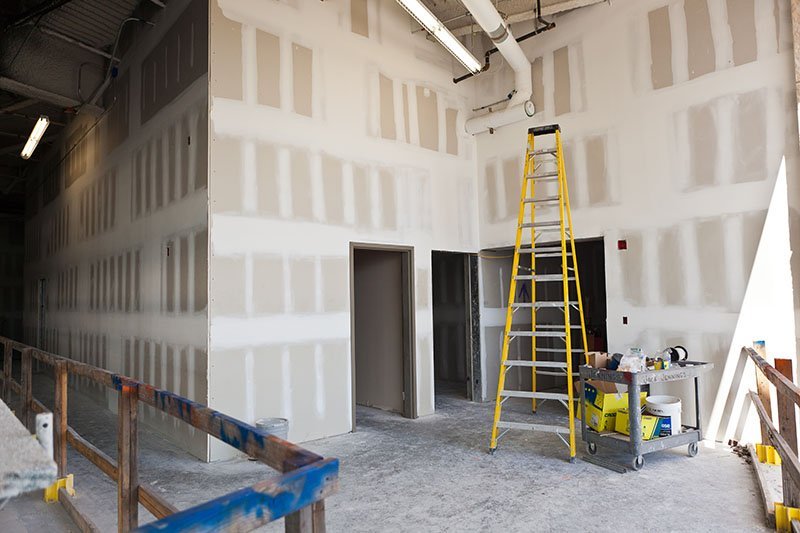 Level 5 finish explanation
Different rooms require different levels of finishing, which means you might need to apply a thin coat to reach level 5 in certain rooms. Not all the walls have to be finished with level 5. For example walls in the kitchen that are hidden with cabinets, or garage, shed, or warehouse. Simply, the places that don't need to look nice can be stoped at level 3 or 4 so you will significantly cut the expenses of finishing drywall.
The skim coat used in level 5 drywall primer is often applied with a roller or as a spray. This primer will prepare the wall for additional painting and design elements, like a spray texture commonly used on walls and ceilings.
Drywall Finishing Levels
Level 0: Level 0 implies that no finishing of any type has been done. At this level, drywall is simply fastened to the walls or ceiling.
Level 1: This level means that drywall joint tape has been embedded in joint compound, but nothing further has been done.
Level 2: This next level means that you have skimmed a thin coat of joint compound over the tape and covered the drywall screw holes. You can stop at this level if you intend to cover the wall surface with tile, or if it's in a garage intended to be used for storage or a workshop-type space.
Level 3: At this stage, finishers apply a coat of joint compound to the tape and screws. Walls that will receive a heavy texture, such as knockdown texture, can end at this level. It would be pointless to progress beyond this level since texturing will produce a finish that is rougher than level 3.
Level 4: This is the classic drywall finish. Here, you apply another coat of joint compound to the tape and screws and sand the dried compound. This is the level that typically is used when a wall surface will be painted or covered with wallpaper.
Level 5: This highest possible level of drywall finishing involves applying a skim coat, if applicable.
Retail Drywall Costs by Type
Here is a list of the most common drywall types and the approximate cost for each:
Standard: Most common, basic drywall type used for walls and ceilings. It is available in several sizes starting at ¼", though that thickness isn't rigid enough for ceilings and will sag in time . | $8 – $12 per panel
Mold Resistant: Mold resistant drywall is most commonly used in damp, mold-prone areas like bathrooms and basements. Some contractors call it "greenboard" due to the moisture-resistant paper used on many brands. | $12 – $16 per panel
Moisture Resistant: Similar to mold resistant drywall, moisture resistant drywall is used in bathrooms, basements, unfinished garages in humid regions as well as any other moist areas. | $14 – $26 per panel
Fire Resistant: Building code requires fire resistant drywall to be installed between the garage and main house. It is also used near furnaces, stoves, fireplaces, etc. | $13 – $15 per panel
Soundproof: As the name suggests, soundproof drywall is also called acoustic drywall and sound-control drywall. It is used to reduce sound from other rooms or the outdoors. It is the most expensive drywall type. | $45 – $55 per panel
What is a Level 5 primer?
Level 5 is a high quality interior PVA primer surfacer designed to smooth imperfections and uniform wallboard surfaces. It can be used to help achieve a level 5 drywall finish without the use of a skim coat.
Is Level 4 drywall finish good enough?
If the drywall is to be wallpapered, textured, or painted with flat paint, a Level 4 finish is perfectly acceptable. But at this level of finish, any joints and imperfections can show when they're under a coat of glossy paint or flooded with bright light.